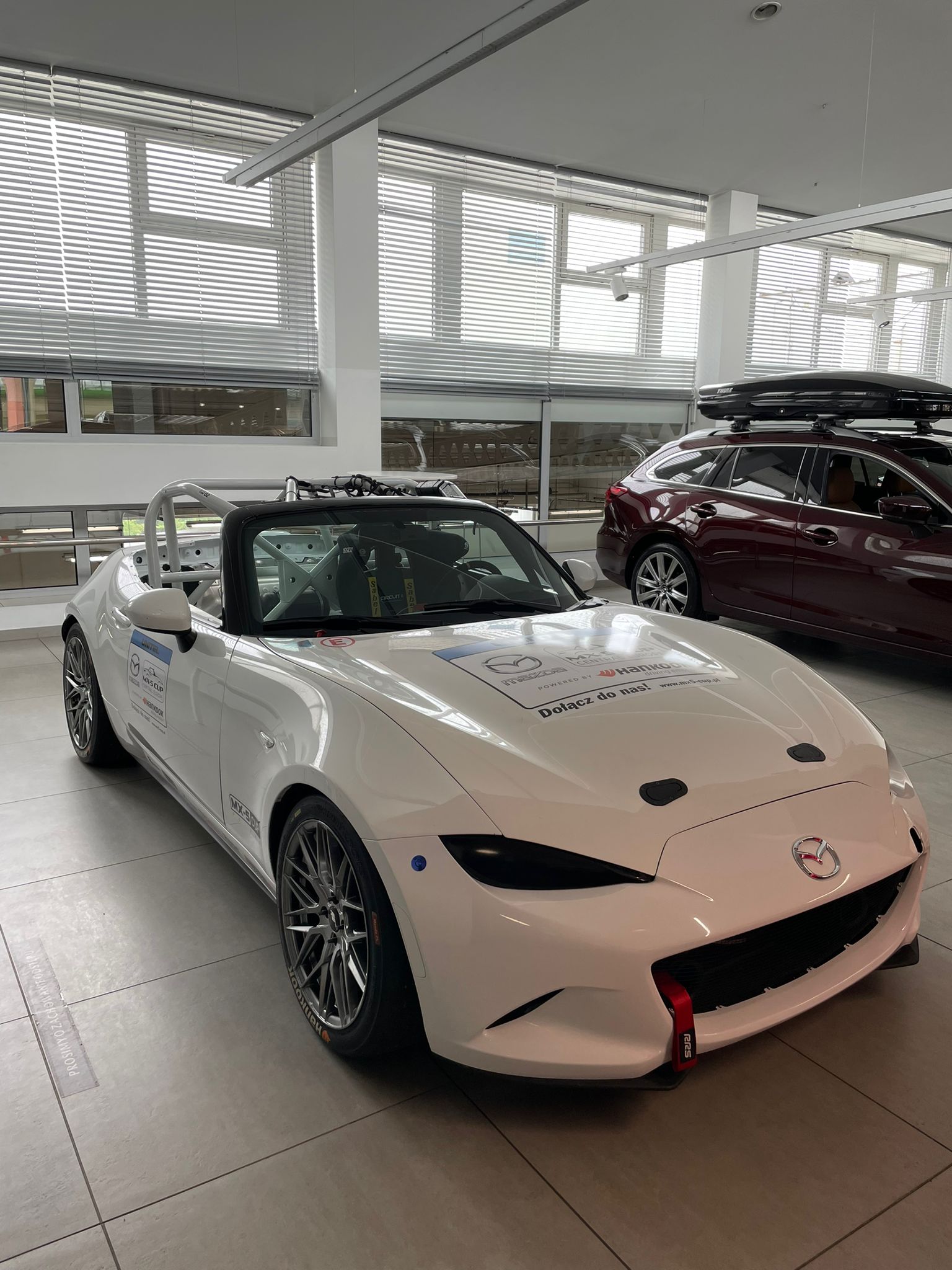 We offer Cup cars for sale
Mazda MX5-ND-2 Roadster manufactured March 2021. Car is equipped with Mazda 2.0 L SkyActiv-G (PE-VPS) DOHC I4 1998cc engine, SkyActiv-MT 6-speed manual transmission and 2.866 ratio LSD rear differential. Cooling of the engine, transmission and differential have been added. Stock engine, gearbox and diff.
The car is almost serial 🙂 The changes are:
modifications to the floor on the driver's side to fix the seat supports,
disassembly of the front headlights and the use of plugs,
disassembly of front daytime running lights and use of front brake cooling elements,
disassembly of side windows,
removal of the roof,
removal of the passenger seat, carpets and soundproofing, as well as bituminous masses from the inside of the body,
modification or removal of fasteners inside the body in order to guide the safety cage elements,
removal of unused brackets and protruding pins so that there are no sharp edges,
permanent plugging of all openings in the body,
modification of the dashboard for the passage of safety cage pipes,
disassembly of the compressor and other elements of the air conditioning system,
modification of the intake system,
removal of circuits of unnecessary receivers, such as: air conditioning, airbags, audio system, rear wipers,
replacement of suspension elements with Hardrace parts with numbers: 8540, 8541, 7957, 7956, 8548, 8544, Q0682, Ohlins shock absorbers and springs,
mounting wheel spacers with a thickness of 20 mm,
replacement of flexible brake hoses with aviation type hoses,
replacement of the front brake calipers with STOPTECH parts numbered 83.556.GV00.A7,
replacement of brake discs and pads with STOPTECH parts with numbers: left disc – 126.45087SL, right disc – 126.45087SR, brake pads 309.11800,
removal of front and rear brake disc covers,
remove the steering lock,
six-point seat belts with FIA homologation,
certified FIA safety cage,
FIA-approved fire extinguishing system,
electric switch (circuit break),
side and top net attached to the safety structure,
sports seat with FIA homologation,
front and rear towing towing eyes.
Full FIA homologation and sports car book.
Included:
laminate roof
3x6m aluminum tent
6 extra rims
Price PLN 160,000 net
Possible to buy:
new Hankook wet tires (EUR 180 net/unit)
used Hankook slick tires (EUR 100 net/unit)
ADU Ecu-Master display (4000 PLN net)
pads, discs and other consumables.